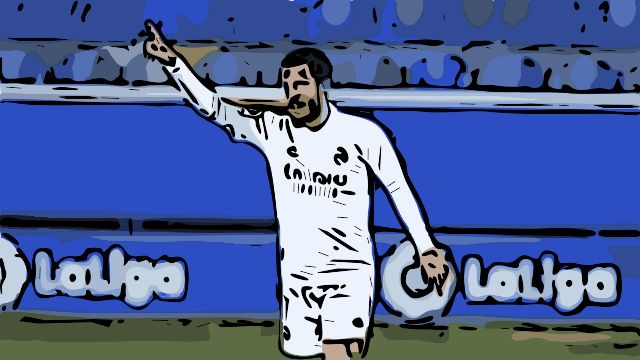 Eden Hazard is in his last chance saloon at Real Madrid
Spanish media can be very unforgiving. You only need to ask Gareth Bale. The media in Spain have hounded him for not learning the language and failing to integrate into the Spanish way of life. Once the press don't like you, it would take performances on the pitch to assuage them, and that's what Eden Hazard is not doing at the moment. The 30-year-old looks like a shadow of his former blazing self, and not playing like someone that has online casino real money, after suffering from a spate of recurring and nagging injuries, that have made him look like an imposter.
He didn't get on the best start at the beginning of his Real Madrid career. There have been suggestions from many of his colleagues that he's not the best when it comes to applying himself at the training ground, but on match day and if he's in the right mood, he's virtually unstoppable. At his brilliant best, he combines football intelligence with artistry meshed with technical elegance, but in the Los Blancos white, those moments have been few and far between. He has never looked in the right shape and has missed more than half of his club's games in the 2 years.
He was expected to fill the Cristiano Ronaldo's big shoes at Real Madrid, but he has failed woefully. He was hounded by this media in Spain for seemingly not being concerned after Real Madrid lost in the Champions League semifinals to Chelsea, of which he had to apologize for his indiscretion. It showed him in a negative light, because Real Madrid as a club is expected to win at all times, and to see a player appearing unconcerned shows that perhaps he doesn't understand what it means to don the white of the illustrious club.
Real Madrid are in a season of transition, and Hazard will have to prove that he merits his place in the team. There were calls for him to be sold this summer, but with Carlo Ancelotti back in Madrid this summer, every player will have a clean slate to start on. This is one opportunity he will have to grasp with both hands because his mesmerizing skills and brilliance at Chelsea feel like a lifetime ago. Madrid are in a serious financial crisis, and with Hazard being one of the highest earners, it is time for him to start repaying a huge chunk of the transfer outlay that was shelled out on him.
On his day, Eden Hazard remains one of the best players in the world, but best online casinos usa believes that he's past it and will never be the player that he once was. This season, he has the chance to confirm it or remind everyone of his brilliance.