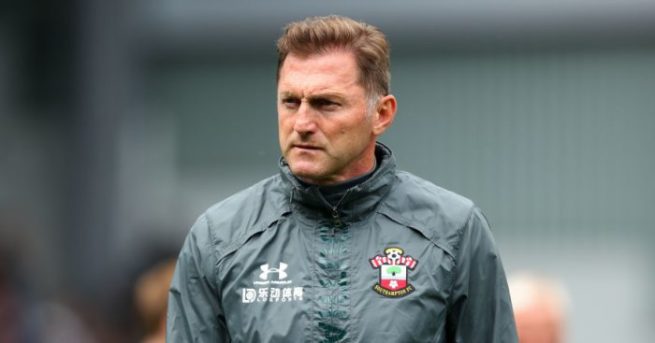 Southampton 1-0 Liverpool: Hasenhuttl left in tears as Klopp's side defeated
Ralph Hasenhuttl has shown that he can be rather emotional when on the touchline and Monday's victory over Liverpool appeared to be too much for the Southampton manager to keep in.
Danny Ings' second-minute lob over Alisson Becker was enough to give the Saints the win over his former club and left his manager in tears and on his knees once the final whistle was blown.
Jurgen Klopp's side suffered their second defeat of the season as they look to try and retain their Premier League title, although they do remain at the top of the summit as England's top-flight head into a break as the FA Cup Third Round takes place over the weekend.
However, the Reds are on a poor run of form and have only managed to take two points from a possible nine on offer, thus providing some concern especially as Manchester United and Manchester City can leapfrog them if they win their respective games in hand.
The Saints had not been in particularly good form heading into the contest, having failed to win in their previous five Premier League matches, which might be why Hasenhuttl sank to his knees in a puddle of his own tears.
Another reason could be because it was the first victory over Klopp he has managed to achieve. Indeed, Southampton looked good throughout the contest and were brilliant throughout the contest that saw both sides missing key players.
One reason many bettors may have been left in tears after the game, though, is if they managed to use some of the new betting sites UK and placed a wager on Southampton winning.
Saints manager, Hasenhuttl said: "There were tears in my eyes – because of the wind! When you see our guys fighting with everything they have it makes me really proud. You need to have the perfect game against Liverpool and I think we did have that.
"It felt like we were under massive pressure and the defending around the box was the key today – and then we still tried to play football. We did it in a good way.
"It was an intense game; my voice is nearly gone. The guys are tired, you have to be to win against such a team. The guys believed in what they were doing. It's a perfect evening."
Klopp said: "What was disappointing? How long have we got? The start, obviously – not only the goal but the start in general. Congratulations to Southampton – they deserved it.
"You know exactly what you are going to get from them. You cannot be surprised but we looked surprised.
"It's not rocket science. We should have done much better. We played into their hands with the start.
"They put a lot of work in. Our decision making was just not good. That is how it is when you don't have momentum. We should have had much more chances.
"These are outstanding players but they were not ready from the start. Sadio Mane should have had a penalty tonight, and there was the handball – I've no idea.
"It's not an excuse for the performance, but you can get a point if they are given. Now we have to show a reaction."